42 Apex Clean Face
FireplaceX's newest EPA-Certified wood burning fireplace, the 42 Apex™, is designed to deliver high performance, clean-burning heat, while showcasing a spectacular fire view. A massive rectangular door and large 328 square inch viewing area beautifully frames and complements the fire, offering a sleek design that accommodates all styles, from contemporary to traditional.

Designed to be flexible for all installation applications, the 42 Apex™ is perfect for remodels and new home construction, as its multiple chimney options and simple installation parameters allow it to be featured anywhere in the home, including interior walls.
Unique Features You're Going To Love
Sleek rectangular door design – classically understated, linear and very popular
Easy to use single air control, artfully hidden in the face design
Bypass damper for easy startup fires and smoke-free reloading.
Low profile door handle is incorporated into the sleek rectangular door design.
Perforated air wash for super clean glass.
Uni-body construction and heavy gauge steel
Exceptionally quiet 400 CFM fan that minimizes noise while maximizing heat output
Multiple chimney options: 8" Air Cooled Chimney or 7" Class A Chimney, allowing for various installation applications.
State of the art catalytic operation provides you with one of the cleanest burning zero clearance wood fireplaces in the industry
In-wall control center – The 42 Apex™ features the industry's first in-wall control that combines digital catalytic temperature readout and a slide rheostat for the standard fan. This user-friendly device houses all of your fireplace's controls into one simple, sleek design that does not require batteries and can be easily mounted and seamlessly integrated into the wall. With this wall control you have the ability to adjust the amount of heat being distributed into the room, understand when your fireplace is performing at optimum efficiency, and even start your fire with the push
Clean Burning Catalytic Technology
Cool outside air is drawn in for combustion.
A metered amount of air enters the preheated air chamber, converting cold, incoming air into warm combustion air. The air then travels through a screened air wash which diffuses and evenly distributes air across the high quality ceramic glass. The perforated air wash works like a self-cleaning oven to keep the large glass viewing area clean and help the fireplace burn more efficiently.
An additional boost to the primary fire is achieved by air inlets near the base of the firebox, allowing for quick and easy startup of the fire. A durable, large catalytic combustor incinerates any leftover particulates, burning almost all of the flue gases and eliminating carbon monoxide.
The bypass damper allows for smoke-free fire startups and reloads when open, and assists overnight burns when closed.
The low profile door handle is seamlessly incorporated into the door and comes standard with a tool that allows you to open and close the door with ease.
The single air control is artfully hidden within the fireplace design and gives you the ability to effortlessly manage the burn rate of the fire. The convection chamber naturally circulates the air around the fireplace and returns it into the room as heated air. As the fireplace heats up the air flow increases, delivering more heated air into your home.
The exceptionally quiet 400 CFM convection fan (mounted below the firebox) comes standard and minimizes noise while maximizing heat output.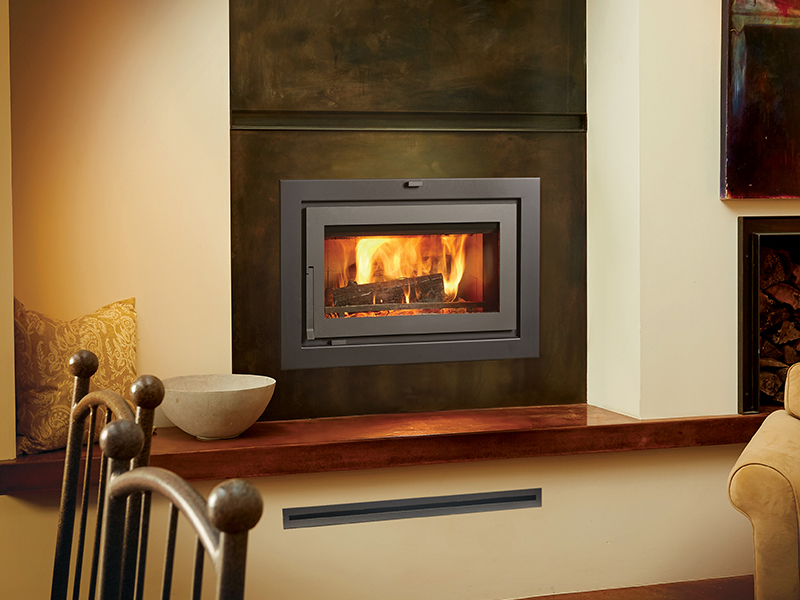 With a push of the GreenStart® button, super heated air (1400˚F) starts your 42 Apex™ in a New York minute. You can also use the GreenStart® Igniter when adding new wood or refreshing your fire after an overnight burn. Your fireplace door stays closed during startups; no more smoky starts, no more slow starts. Anyone can do it!
Maximum Burn Time:
Up to 12 Hours
Weight:
555 lbs.
Maximum Log Size:
24"
Maximum Burn Time:
12 House
Weight:
808 lbs.
Efficiency:
78.6%
Heating Capacity:
Up to 2,500 Sq. Ft
Heating Output:
62,000 BTU'S / Hour
Firebox Size:
3.5 Cubic Feet
Emissions:
0.69 Grams Per Hour
Construction:
Heavy Gauge Steel