DaVinci Custom Fireplace
The sleek simplicity of this fireplace lends itself to a wide range of applications and has the ability to complement any living space with its clean, dynamic fire view. The modular design of the DaVinci allows us to custom build Single-Sided Fireplaces in lengths up to 240 inches (20 feet) long.
Multi-Colored Interior LED Lighting
DaVinci's Platinum crushed glass floor is under-lit with vibrant colored LED lights that take this fireplace to a whole new level when illuminated. An endless array of vivid colors is at your fingertips, allowing you to set the mood and create the perfect ambiance for any occasion.
The burst of color adds a mesmerizing glow around the flames and reflects off the crushed glass floor to create a dramatic presentation of fire unlike anything you have ever seen.
Custom Designed Linear Fireplaces - From 36 to 240 inches in length!
DaVinci Custom Fireplaces offer the architect and designer the ability to custom order a fireplace in seven design categories up to 240 inches in length.
These custom fireplaces are ideal for large commercial applications such as hotels, casinos, restaurants and other large scale commercial or residential projects looking for standout yet safe fire features. These fireplaces ship as fully assembled modular segments which are then connected at the job site with our laser guided track system.
Depending on vent runs, these fireplaces may require multiple power vent systems and multiple air intakes.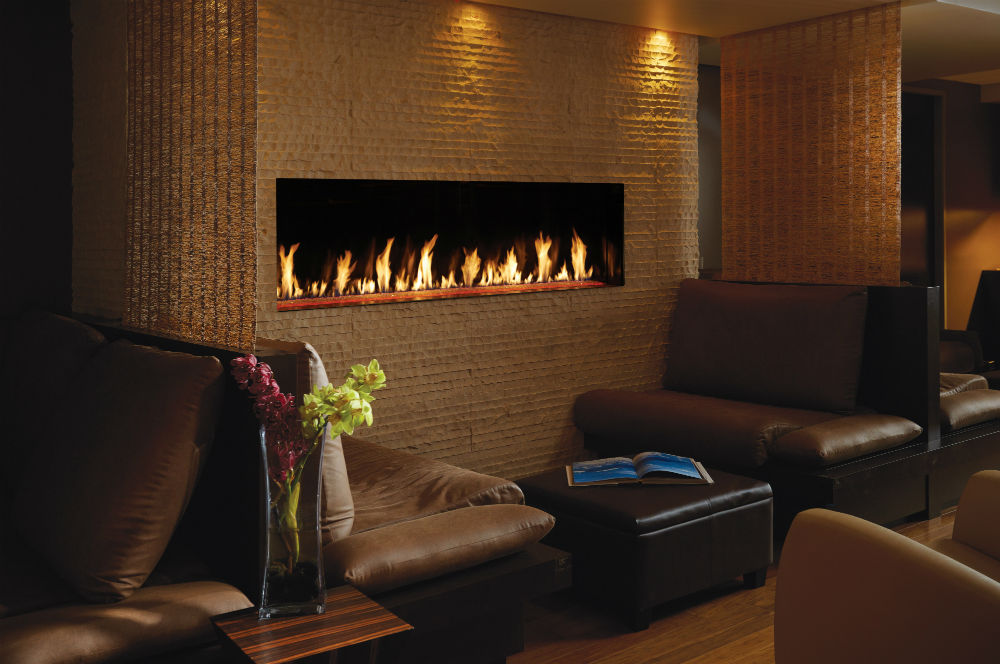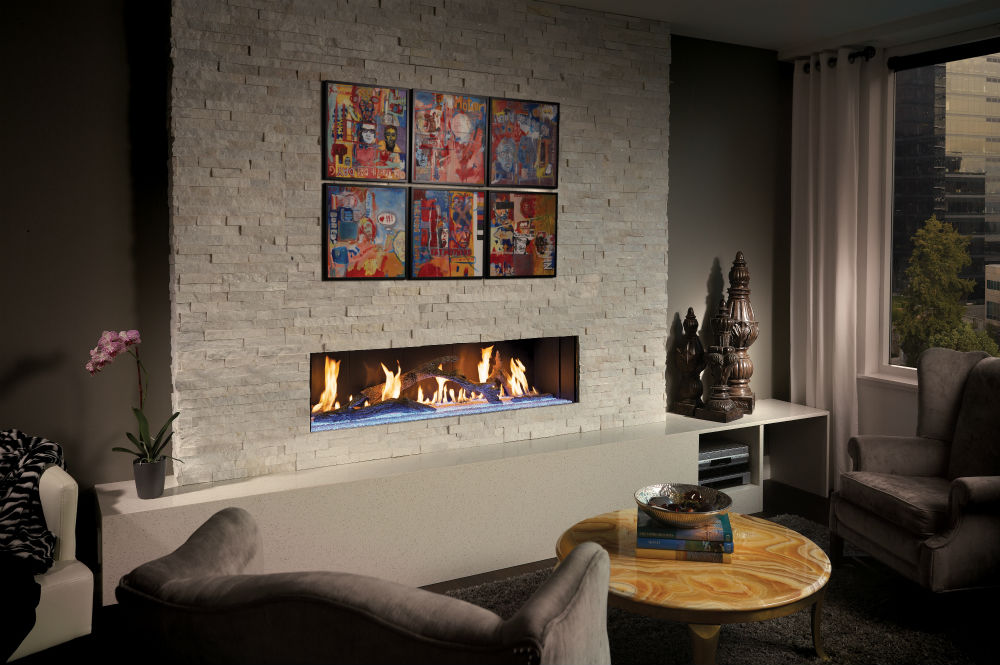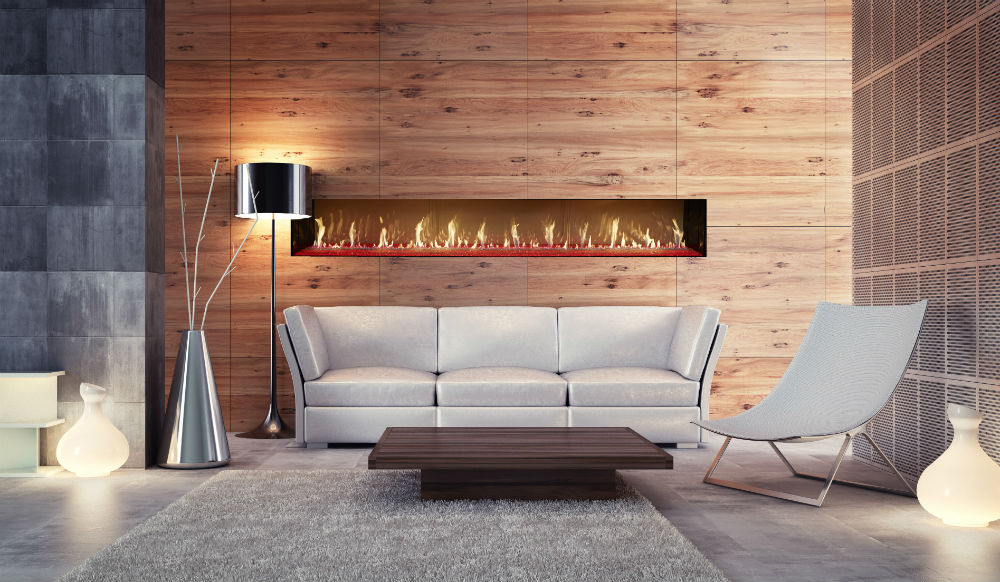 Safe Touch Glass™ and Zero Clearance To Combustible Surfaces
Your safety is our number one concern. Innovative engineering keeps our double-pane, crystal clear glass at extraordinarily low temperatures, reducing any potential for injury.
This standard safety feature on every DaVinci Custom Fireplace makes them ideal for decorative home applications and high traffic commercial installations.
All steel fireplace surfaces can be in direct contact with combustible materials.
Drawings
DaVinci Custom Fireplace Features
Winner of the prestigious Hearth Industry VESTA Award for Best New Gas Fireplace in North America for 2014.
Best fire presentation of any linear fireplace on the market
14,500 BTUs per foot input
12" or 20" glass heights
Platinum reflective crushed glass floor with multi-colored interior LED lighting (user friendly wall switch included)
Choice of liners:

Black Paint Finish
Silver Paint Finish
Black Porcelain Enamel

Stone and Log Fire Art options
Innovative modular design makes DaVinci the easiest custom fireplace to deliver and install at the job site.
Choice of exterior or interior power venting: Allows for unlimited venting configurations and installation in virtually any room.
Negative pressure in the home or commercial setting has NO EFFECT on this fireplace with our ultra-efficient outside air direct vent technology.
Non-heater decorative fireplace rated. Tested and approved to; ANSI Z21.50b-2014 / CSA 2.22b-2014
Manufactured in Mukilteo, WA by Travis Industries, North America's premier manufacturer of hearth products
For Architects, Builders & Specifiers:
We can provide installation and owner manuals.
We can provide CAD, BIM, SPECS, SPEC WIZARD, Solidworks, and LEED information if needed.