Rumford 1000
The Rumford 1000 is the ideal wood burning fireplace. It provides the crackle of wood, heat of the flame and is the perfect focal point for any room. When the integrated glass door is closed, unlike a conventional masonry fireplace, there is no heat lost up the chimney.
What makes Renaissance the ultimate wood burning fireplace?
The Fire. Rumford fireplaces light faster, produce larger flames, generate fewer emissions and heat more than any other existing open wood fireplace. The fire is so big and bright that it puts all other wood burning appliances to shame. If you have not experienced the fire in a Rumford, now is the time.
The Nostalgia.
A luxury wood burning fireplace should create a feeling of nostalgia. Most Renaissance customers grew up with a conventional wood burning fireplace. Our goal is to recreate those positive feelings, without any of the drawbacks like inefficiency and smoke in the home.
Sealed Door
Once closed, the Renaissance door keeps warm room air inside the home where it belongs.
Less expensive than masonry
No footing required to support the fireplace, pre-assembled units cost less and install easily.
Clean Burning
Winner of a U.S. EPA Clean Air Excellence Award for outstanding, innovative efforts in improving air quality
Durable
Although light enough to require no footing, the Renaissance is over 800 lbs of solid steel.
Insulated Chimney
Insulated chimney prevents cold air entering the home and improves performance of the appliance.
Massive Fire
No other existing fireplace burns as big, bright and beautiful as a Renaissance Fireplace®.
Creates Distinctive Ambiance
Listen to the crackle and pop of the fire when the built in screen is closed.
Freedom of Design
Our fireplaces are a blank canvas which you can adapt to your personal style.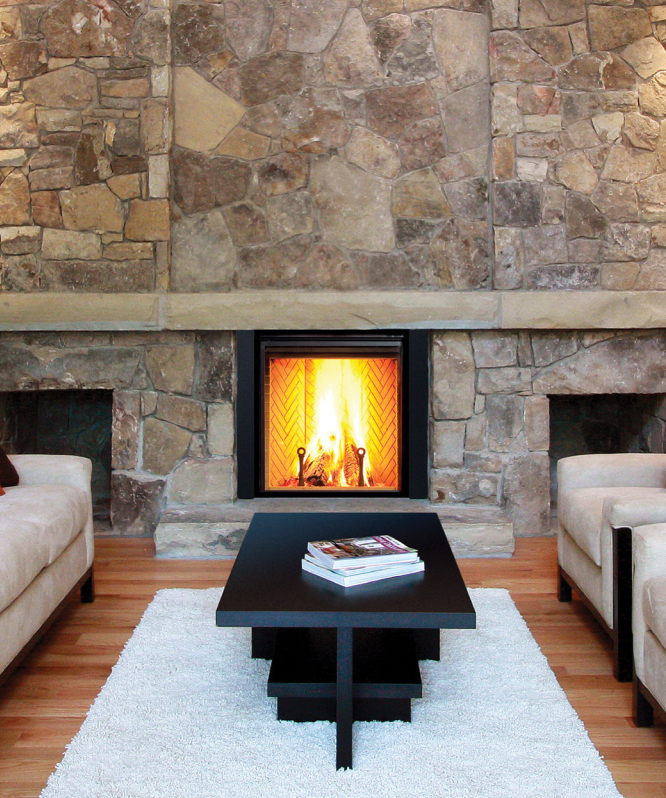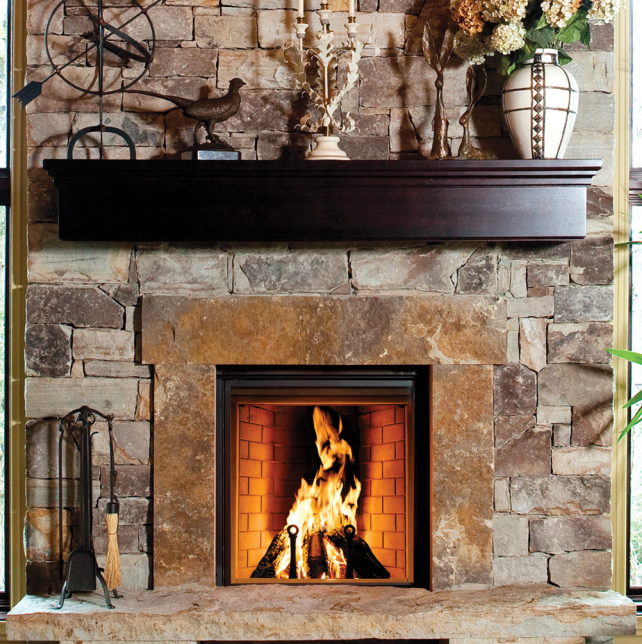 Guillotine Door and Screen
Specs:
Outside Dimensions: 51"W X 79 ¾"H X 27 ½"D
Firebox Opening Dimensions: 28 ¼" W X 29" H
Weight: (ship wt add 70 lbs)756 lbs
Firewood Length:Varies depending upon stacking method
Emissions w/ Door Open: 3.00 grams/kilogram
Emissions w/ Door Closed: 1.00 grams/kilogram
Glass Size: 1023 in2
Guillotine Door: Ceramic Glass
Firescreen: Guillotine Design
Andirons: Cast Iron
Ash Pan: Not Available
Options: None
Chimney: 10" RIS (12' minimum)
Gas Log Provision: YES
Outside Air: 4", meets R2000
Mobile Home Approved: NO
Touch-up Paint: Stove Bright Metallic Black
Minimum Ceiling Height: 8'
EPA Certification note: Exempt, meets ASTM
For Architects and Specifiers:
We can provide installation and owner manuals.
We can provide CAD, BIM, SPECS, SPEC WIZARD, Solidworks, and LEED information if needed